When we think back-to-school, we think of pens and pencils, notebooks and backpacks, and even tablets and other gadgets. Here are a few less obvious items to consider adding to the pile.
Speaker with light show
Earbuds are a natural must-have for walking around campus and tuning out what's around you. But when back at the dorm or chilling out with friends, you might just want to fill the room with sound. The prescription for that is the portable Creative Halo wireless speaker and two-way speakerphone.
Halo offers surprisingly big-bass sound. But what really makes it stand out – besides the cool fabric-covered shell – is its built-in light strip. It offers a vivid light show of up to 16.8 million colours. You can control the lights from the top of the unit or customize through the free companion app for iOS or Android.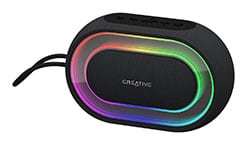 Halo is Bluetooth 4.2 enabled for wireless connectivity. It also has a port to direct connect your audio and its built-in lithium-ion battery is rated for up to eight hours.
With all this and the Creative name, you might be surprised to discover it retails in Canada for only $85. You can find it at Best Buy and Amazon.
Real camera makes sense
For many, smartphones have become the default device for taking pictures. But there are times you might want to do photography your phone can't handle and save your battery. Try the compact Fujifilm FinePix XP130.
It has a massive 16.4 mega-pixel CMOS sensor and a Fujinon 28-mm wide-angle lens with 5X true optical zoom so you can take some really sharp high-resolution pictures. For quick snaps, it has an automatic scene-recognition mode for the right settings at the right time, a remote-shooting feature and a time-lapse feature.
And it's dust proof, shock proof, freeze proof (to -10C) and water proof. Besides coming in cool colours, the camera features the latest Bluetooth technology so it can transfer files to your smartphone, computer or printer.
It sells in Canada for around $200 and is available from London Drugs and Amazon.
Fast-wired Internet without long cables
Do you sometimes find the need for a solid Wi-Fi to your computer, smart TV or gaming console but the connection is simply not optimal? And if they were in hard-to-reach places, too far from your router, you'd think you'd need to string some pretty long cables.
You don't. You just you need an AV2000 2-port Gigabit Powerline starter kit by TP-Link.
It uses the electrical wiring in your home. You simply plug one of the two adapters into a electrical socket near your router and run the supplied cable to it. Then plug the other adapter into a socket near your computer or TV and connect the cable to it. You have a secure and almost wireless wired connection.
The system is plug and play. No complicated setup required. Each adapter can support two devices. It can establish multiple solid connections simultaneously and smoothly stream 4K video.
It sells for just over $100 and is available from Best Buy and Amazon. A model with a power outlet pass-through is also available.
Charge your phone and jumpstart your car
The Weego Jump Starter 44 is great if you commute to school in your own vehicle or your car is going to sit for days on campus. This bright orange charging pack will not only charge your smartphone, tablet and other USB devices, it can also jumpstart your car, motorcycle or even boat – anything with up to a seven-litre gas or 3.5-litre diesel motor.
The battery pack puts out up to 400 true cranking amps to start your car in winter and a massive capacity of 12,000 mAH, good enough to charge an iPhone 8 over six times. It also has a 500-lumen dual LED flashlight with strobe and SOS flashing modes in the event you're lost or stranded on the road after dark.
It ensures you don't destroy your car's battery by sparking, overheating or accidentally clamping the cables the wrong way.
And it automatically charges your gadgets at the fastest speed possible.
Weego Jump Starter 44 comes with a wall and car charger, hook and lanyard, and water-resistant pouch. It also has an accessory port so, with an optional adapter, you can power accessories like a lantern or air compressor.
It has an 18-month warranty and retails for $219.99. You can find it at myWeego.ca, PartsEngine.ca and Amazon.
Troy Media columnist Greg Gazin, also known as the Gadget Guy and Gadget Greg, is a syndicated veteran tech columnist, communication, leadership and technology speaker, facilitator, blogger, podcaster and author. Reach him @gadgetgreg or at GadgetGuy.ca.
---

The views, opinions and positions expressed by columnists and contributors are the author's alone. They do not inherently or expressly reflect the views, opinions and/or positions of our publication.