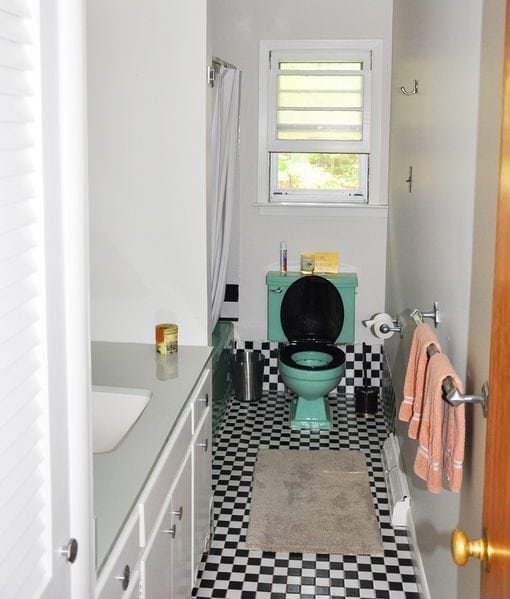 Big Pink band members outside - Elliott Landy photo
Big Pink dormer and sitting area
Big Pink owners Sue and Don LaSala
If you're a fan of The Band, I have great news for you.
You may be aware that this summer marks the 50th anniversary of the release of Music From Big Pink, the group's first album. But you may not know that the remote house the musicians and their mentor Bob Dylan gathered in to record their music has recently become a vacation rental property.
Fans can rent the three-bedroom house to spend time on the property where Robbie Robertson, Levon Helm, Garth Hudson, Rick Danko and Richard Manuel gathered with Dylan to bash out song lyrics on typewriters and then go to the basement to play and record their demo tapes.
By the time the band members were living and meeting at the big house in Saugerties, N.Y. – near Woodstock, where Bob and Sara Dylan lived – they had finished the famous tours where Dylan had been widely and loudly booed by his audiences for going electric with his backup band, formerly known as The Hawks. He was recovering from a motorcycle accident and reassessing his life. Members of what would later be known as The Band felt he was subtly teaching them to work in new song styles, Robertson told one interviewer.
Dylan would come over to the house often, type out lyrics, and then he and whoever was available would go downstairs to try to work out a suitable melody. They amassed a huge number of recordings over several months, 138 of which would finally be released as the six-CD Bob Dylan and The Band Basement Tapes, Complete. The collection also comes with a 120-page book with photos from the period.
Capitol Records, incidentally, will release a remixed CD of Music From Big Pink on Aug. 31, along with a 5.1 Surround Sound Blu-ray and a double vinyl album, all of which contain six new tracks.
The CDs are perfect collections for fans of Dylan and The Band to play in their cars as they drive down the state turnpike on their way to Big Pink for an overnight stay.
And come they do, to the small town in the southeastern corner of New York state.
The pink house, which has two kitchens and two bathrooms, can be booked through HomeAway.com. It's an ideal destination for three couples who enjoy its history and are willing to share the cost (which runs about US$470 a night). The home is owned by Don and Susan LaSala, and guests stay on the main floor and in the upstairs dormer. Don keeps the basement private for his own purposes as a musician, but he can be persuaded to allow guests to see where The Band honed their skills and created their distinct sound.
Details on Big Pink are available online, but what's most striking is that of 58 customer reviews, the score is a constant five out of five. Clearly, the fans who decide to come may be biased, but they're not disappointed by what they find. Often, LaSala says, they bring guitars and musical instruments and play them inside or outside the house. Visitors should remember the price charged is for the whole house, and when shared by six people is quite reasonable for what you get.
Don and Susan have owned the house for 20 years. When they bought it, Dylan and The Band weren't as popular. "I thought people had taken leave of their senses," he recalls. "When we bought it, it was hard to find. The local people would protect it, they'd say 'I'm not going to tell you where it is'." But still, people would drive up to take pictures, so the couple decided to turn it into a place where fans could come and stay for a visit.
Some people felt he should have turned the house into a museum, LaSala says. "They felt it's a shrine. But it's a home," and the couple plans to keep it that way.
The famous basement is LaSala's "project studio," which he likes to keep private. "I give a tour and allow people some hangout time," he says. "I show people where everyone stood when they were making their recordings. Garth Hudson dropped by for a visit and told me where everyone stood."
There's a Rolling Stone magazine video on YouTube of Hudson returning to Big Pink years later and in it he points out where his bedroom was. Hudson also gave a lot of useful advice to the people who worked to restore the original basement tapes for the later recordings.
Levon Helm's bedroom, incidentally, was the dormer.
Besides the fans who come, wedding parties also like to use the house, but LaSala says they try to limit the size of the groups to 15 people. Otherwise, "it can get out of hand," he says.
Those who come are "mostly musicians, writers and creative people. They tend to understand and for the most part they're respectful. We put in an extra charge if you're disrespectful."
People are asked to bring their own food. "This is your home while you're here," he says.
The Band moved out of the house once the album was released, he says. They figured that once the photo of the dwelling was printed, there'd be no privacy, so when the lease ran out, they moved on.
Oddly enough, when the first album was released, some music critics didn't know what to make of it or how to describe the sound. According to Wikipedia, "the initial critical reception to the album was positive, though sales were slim." The songs had been recorded in professional studios, yet it was the unauthorized bootleg basement tapes that gained a life of their own. Those tracks were recorded in the basement to be sent out to other recording artists to see if they were interested in the songs.
The album peaked at No. 30 on the Billboard's Top Albums chart that year. It became No. 8 on Billboard's Top Internet Albums chart in 2000. In 2003, it ranked No. 34 on the Rolling Stone list of 500 greatest albums of all time. It has been praised by such artists as Eric Clapton and George Harrison, and Pink Floyd co-founder Roger Waters called it the second "most influential record in the history of rock and roll," after the Beatles' Sgt. Pepper's Lonely Hearts Club Band.
English musician Terry Burrows credited the album with spawning the Americana music genre. All that from five men in their 20s having fun in the basement of what Robertson described as their "clubhouse."
And now anyone can experience what was once the home of one of the most influential bands in modern music history. There are few vacation opportunities like it and this is one chance that should not be missed.
Put it on your bucket list.
Troy Media's Peter Bailey is an award-winning newspaper editor and writer with more than 40 years of experience. He specializes in automotive and travel writing, and lives in Hamilton, Ont.
---

The views, opinions and positions expressed by columnists and contributors are the author's alone. They do not inherently or expressly reflect the views, opinions and/or positions of our publication.
This site is Powered by Troy Media Digital Solutions