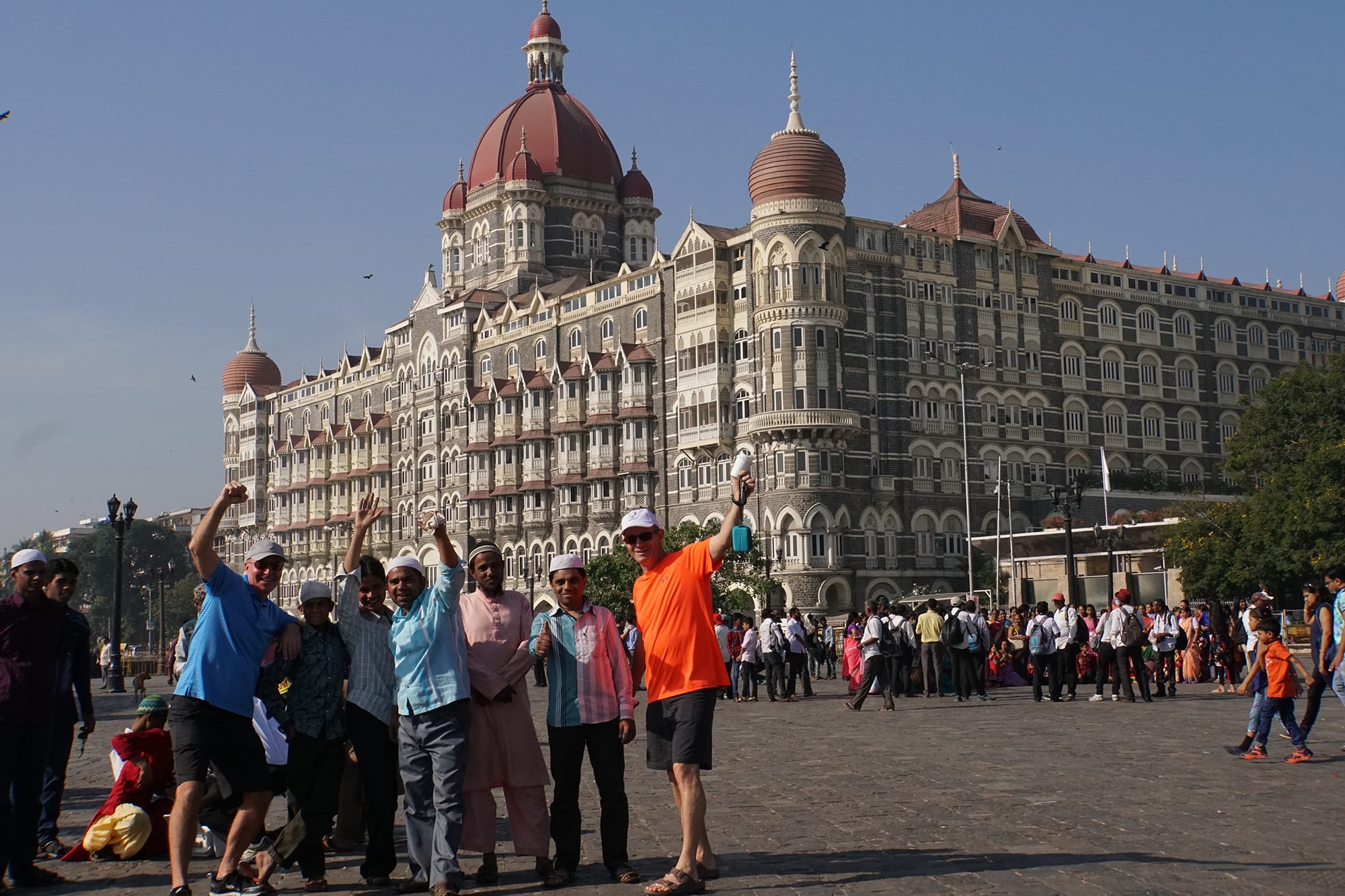 It was in the rooftop restaurant of the InterContinental Hotel in Mumbai that we first encountered Joe Tourist.
He was at the other end of the open-air bistro, ordering sushi. "Hey," he shouted across the floor at the flustered waiter, "make that four tuna belly and throw in an extra order of unagi."
Ordering sushi in India is ill-advised – for a couple of reasons. First, there's a near-zero probability that you will actually receive what you ordered and second, in the days following, you will most certainly regret your decision to consume raw fish netted from the Bay of Bengal.
While events unfolded on the far side of the restaurant, we sat quietly enjoying a soft Indian evening and a delicious appetizer of aloo gobi and paneer fried in onion gravy. On the street far below, the honking traffic crawled while pedestrians strolled Mumbai's broad malecon, which serpentines along Marine Drive.
We overheard Joe Tourist ask for the bill, "La cuenta por favor." He must have mistaken Mumbai for the Mayan Riviera. The waiter, barely able to comprehend English, stared blankly, mystified by Joe T.'s garbled Spanish.
Minutes later, as if on cue, a tsunami arose from Mr. Tourist's table over the tab. Ignoring the commotion, we dug into our delightful entree of tandoori chicken and bhindi masala, served with a side of garlic naan.
But serendipity had a cruel fate in store for us. This was not to be the last time we would cross paths with Joe Tourist during our month-long adventure in India.
Mumbai (formerly Bombay) is the fourth largest city in the world. India's business capital is undergoing the greatest construction boom in the country's history. Everywhere huge apartment buildings are being erected, scraping the sky. Yet just metres from these multimillion-dollar luxury condominiums lie Mumbai's vast slums. Eighty per cent of Mumbai's 22 million residents live in these jumbled shantytowns.
In the movie Slumdog Millionaire, the protagonist, an 18-year-old orphan from the Dharavi slum, relies on his street smarts to answer a series of obscure questions – and collects the grand prize of 20,000,000 rupees. In true Bollywood fashion, there's an elaborate dance scene – and, of course, in the end he gets the girl.
Twenty-two-year-old Nic is also from Dharavi. He picked us up at the hotel for a tour through the slum he calls home. But first he showed us the sights of colonial Mumbai: Shivaji Terminus (formerly Victoria Railway Station), the iconic Gateway of India in Mumbai Harbour and, across the street, the opulent Taj Mahal Palace Hotel.
On Nov. 26, 2008, Pakistani militants stormed the hotel, setting off explosives and killing 31 guests. Nic was in the plaza across from the Taj when the terrorists began strafing the crowd with automatic rifle fire. "When the firing started, I broke away on my own," he told us matter-of-factly. "Shooters are more likely to fire at a group than one person."
We weren't permitted to take pictures in the Dharavi slum. But what I saw is forever seared into my memory: a group of women crouched on haunches in a dimly-lit room, separating an endless mountain of used plastic utensils; two young lads – without the benefit of eye, ear or lung protection – shoving broken toys into a gas-powered chipper (I stuck my head in that room for a few seconds before the deafening noise and smell of churning plastic drove me out).
From the 'plastic' district, Nic led us past open sewers, under precariously dangling electrical wires and through narrow twisting passages to a quarter where the planet's discarded leather coats are re-tanned. The gutter ran ochre with chemical sludge.
Then, holding our breath, we entered a smoky neighbourhood where bricks are re-kilned. Finally, we toured an area where dirty paint cans from around the globe are emptied, cleaned and banged back into shape. The gutter here ran all colours of the rainbow.
And every Dharavi rooftop billowed to overflowing with stuff the world has discarded.
Amidst all this commotion, folks lived, cooked, cleaned, ate. Children played, old men smoked, teenagers flirted, mothers nursed, babies slept. In this single square kilometre of squalid, stifling slum a million people go about the daily business of survival.
But to street-smart Nic, Dharavi is just home, the place where he rests his head each night.
If you visit India, you may wish to bring an attractive blonde along. Your group will be popular. We couldn't walk down the street without someone requesting a selfie with our Saskatoon cutie. In Mumbai's main square, locals surrounded her like paparazzi hounding a celebrity. Thus began our symbiotic photo relationship with India. Locals took shots of our 'BB Ji' while we in turn photographed them.
From chaotic Mumbai, we flew to the relative calm of Kerala on India's extreme southwestern tip. The "land of coconuts" is a tropical paradise dense with rainforest, wild elephants, monkeys, tea plantations – and spices.
Kerala is home to a wonder of zesty flavours: pepper, cinnamon, licorice, chili, cardamom, ginger, nutmeg, coriander, cumin, turmeric. For centuries, the colonial powers fought wars over the exotic spice trade.
And from these amazing seeds and roots comes India's great contribution to world cuisine: curry.
If you go
Explore India from Vancouver, B.C. (www.exploreindia.ca), capably and professionally handled all aspects of our private month-long tour – air and land travel, hotels, meals, guides, drivers, entrance fees and activities – for one all-inclusive price.
Next: The spices of Kerala.
Troy Media travel writer Gerry Feehan, QC, lives in Red Deer, Alta. He can be reached at [email protected]
---

The views, opinions and positions expressed by columnists and contributors are the author's alone. They do not inherently or expressly reflect the views, opinions and/or positions of our publication.